.. 2010-11-29 | 20:57:55
Ian Somerhalder om Twilight vampyrerna
Ian Somerhalder från Vampire Diaries tycker att de är bättre än Twilight vampyrerna. Vad tycker ni?



Källa: BDM
---
.. 2010-11-29 | 20:54:23
Breaking Dawn ringarna
Hittade en close-up bild på ringarna i Breaking Dawn.





Källa: TTS
---
.. 2010-11-29 | 20:54:22
Breaking Dawn ringarna
Hittade en close-up bild på ringarna i Breaking Dawn.





Källa: TTS
---
.. 2010-11-25 | 17:31:32
Breaking Dawn tjuvkik
---
.. 2010-11-23 | 15:02:20
Rykte om Breaking Dawn
Big news on Breaking Dawn part I & II – Renesmee
It's been confirmed that we won't have to wait till 2012 to see Mackenzie Foy on the big screen.  She'll also appear in Breaking Dawn part I in a tiny flashback scene.
Her face will be CGI'd and transferred onto another baby, little girl, teen, and finally a woman to show her growing up really fast. It'll be a quick scene, and maybe you never realize it's Mackenzie, but we'll finally get to see Renesmee!
Also, in Breaking Dawn part II Mackenzie will play a 6 years old girl.  Mackenzie is 10 years old now, so Breaking Dawn director (Bill Condon) will work with similar digital effects to the ones used in "The Curious Case of Benjamin Button". This means we'll get to see Mackenzie playing a 6 years old Renesmee throughout the whole movie.




Tack till TTS
---
.. 2010-11-23 | 14:59:41
Outtakes på Ashley från Mark
---
.. 2010-11-21 | 19:52:55
Rörlig bild
Hittade en rörlig bild på några från Twilight Castet.


---
.. 2010-11-21 | 19:48:29
Bella, in old days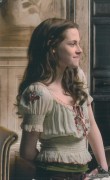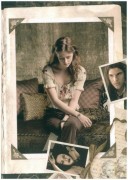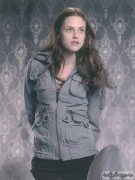 Tittar man noga så ser man att Bella ser mycket yngre ut på bilderna. Fast hon var ju även yngre då.


Tack till TTS
---
.. 2010-11-17 | 19:46:04
Peter Facinelli bakar kakor
Peter Facinelli var med i Glad to give - Celebrity cookie challenge, där han bakade en vampyrkaka tillsammans med barn med cancer.
Här finns receptet.
---
.. 2010-11-15 | 21:51:42
Booboo Stewart magmuskler
Booboo Stewart visar sina fina magmuskler på Perth Convention Center i Perth Western Australia. Söt.
Källa: BDM
---
.. 2010-11-15 | 21:47:20
Roliga Robsten bilder
Söta bilder på Robsten. Lika som bär, eller?
---
.. 2010-11-14 | 16:32:00
Ashley om Breaking Dawn


I intervjun ovan pratar Ashley Greene lite om Breaking Dawn.


Källa: TTS
---
.. 2010-11-14 | 16:27:37
Isle Esme inspelningen är avklarad
Nu är tydligen inspelningen av Isle Esme scenerna färdiga.
Robert Pattinson and Kristen Stewart are saying goodbye to Brazil. The on-and-off-screen couple has been in Paraty, Brazil, all week to film the "Isle of Esme" honeymoon scenes.

HollywoodLife.com spoke with a source close to production who revealed that Breaking Dawn producers rented the house for 22 days at the end of October, but Rob and Kristen are leaving the tropical paradise Nov. 13 by helicopter.

"It took the production crew 10 days to change the house to the way they wanted it [for the film]," our  source tells us. "Then they spent five days filming scenes and now they will spend the next five days changing the house back to the way it was before."

Several fans tweeted Nov. 9 that Rob and Kristen filmed the highly-anticipated "feather scene," in which Bella wakes up covered in feathers after losing her virginity to Edward.

Though we know Rob and Kristen are leaving Brazil, we're told they aren't going straight back to Baton Rouge, La., to film more Breaking Dawn scenes. Our source says Rob and Kristen are "making a stop in LA" before returning to their private love nest!
Källa: BDM
---
.. 2010-11-12 | 20:28:49
Kristen Stewart outtake
Ny Kristen Stewart outtake för hennes "photo-call" i New York för Welcome to the Rileys.
För fler bilder, klicka här.
---
.. 2010-11-12 | 20:25:59
Hela Simpsons Twilight inspererade avsnitt


Källa: TTS
---